Let's face it. If we are all being completely honest with ourselves, the 4th of July is the biggest excuse in American history to party. It is celebrated over the course of about two weeks, and I promise that you'll still be hearing fireworks until, at the very minimum, July 14th.
Being an American isn't a one day celebration though, so celebrate in style and get some patriotic gear that you can wear all 12 months.
I can 10/10 confirm that girls 100% avoid the guy dressed up like Uncle Sam at the bar.
Don't do it.
Please, I'm begging you to keep it cool with these four looks that you can wear year round.
1. Subtlely Patriotic Hipster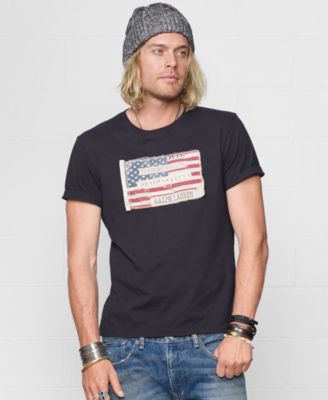 This look is exclusively for those of you who are searching for something that says, "I care about my country, but I also care about my dignity." It's a pretty effortless t-shirt that is still stylish enough to not immediately throw in the trash can the next day.
I hate wasting money for one-day special occasions, such as tacky Christmas parties. The word tacky is in there for a reason. Buy something that you actually want to keep. After all, you do have to spend money on these things. Why would you throw it out after the novelty wears off within 12 hours?
Keep it causal and cool and just buy something that shows you are totally all about America, but also not the opposite end of a magnet for all of womankind.
2. Last Minute Man
And then there's some of us who will totally disobey my advice and buy the cheaper version of what I'm talking about. Just promise if you're going to do this, you keep it classy and decent. You are wearing the symbol of our country – let's do it some justice.
This shirt is from Forever 21. Normally, I would not recommend that anyone under the age of the store's name buy anything from there, but we've all been guilty of it. Sometimes you can't resist the lure of being young again. Grappling with your own mortality in the tiny quarters of a dressing room is not exactly my idea of a fun Saturday, but it happens to the best of us.
If you're anything like me, last minute holiday celebrations are a total thing. Most of the time when I decide to go to a holiday event, I finally make up my mind one hour before the party starts. This is where a place like Forever 21 comes in handy.
Go there, be free, be young again, and revisit this shirt once a year when you need it.
3. Corporate America Dude
Want to impress your boss's daughter at this "totally casual," but extremely important barbecue that he invited you to this weekend? Better not show up looking like a fireworks display. Keep it Cape Cod, or else she's going to think that you're still experiencing your sophomore year as a Tri Chi Delta Theta Kappa Sigma.
Your goal? Looking like you just flew off the pages of a Ralph Lauren magazine. I don't care if it's 400 degrees outside, you better wear those crisp white pants and thick wool sweater like you like it. This is your one shot, so don't ruin it by showing up looking like a Toby Keith wannabe.
Essentially, you're going for the All-American USDA Grade A Angus Beef look. If she doesn't look at you and think, "I want to have babies with him," after seeing your perfectly executed popped collar, then it just wasn't in the stars for you, buddy.
4. Annoyingly cool guy in perfect sweater
Not everyone is like the, a little bit crazy, Corporate America guy. Some of us could possibly use the same strategy, but for the opposite effect. Chances are, if you can pull this off, you're probably more player material than future husband material.
I feel like a lot of guys try to be this guy and it just epically fails, but if you do like this style and look, expect to spend 9 to 14 hours in thrift stores across America to find this sort of sweater. It's a one of a kind, lifetime find. Perfect for fall, winter, spring, possibly even summer.
Honestly, if I found a sweater like this, I'd make it an everyday look and everywhere I went, people would say, "Wow! There goes that guy with the American flag sweater. He is so cool and sexy."
Roll up those sleeves and get to work!
Any of these looks will do the trick for the 4th of July weekends (yes, weekends is plural), but try to find something that you'd wear again throughout the year, because being American is something to be proud of!