If you want to switch up your look with a pattern that is a little more on the classic side of things, gingham is a great option. Like most patterns, a little is a lot, so there isn't much that you have to do to get in the business of going Gingham Style.
Check out these five looks that will help you stick out in a crowd:
1. Classic Country Boy
There's nothing that'll get a woman going quite like a southern drawl and that farmer's tan left over from summer. Show off your country side (even if you don't have one) and slap a little gingham onto your chest.
Forget the sleeves. A true southern man doesn't wear sleeves much of the time any way during months like July and August. That's just asking for a heat stroke, where I'm from.
Visit stores like J. Crew, Brooks Brothers, and Nordstrom for a great-quality, tailored-fitting shirt like this. It's something that you'll be mixing and matching over the next few months.
2. The Modern Gentlemen
Brb, while I can't stop swooning over how handsome this man looks. Just because you want to wear gingham, doesn't mean that you have to deck your halls with it. Adding some simple touches of the pattern should be enough to do the trick.
Strong patterns should accentuate your style, not completely take it over. I love this classic navy look, mixed with enough flair to get your attention. The only thing I'm not digging is the hat, which I feel like most guys can't pull off. I don't think it really matches with the hip gentlemen style that this guy is going for.
But without the hat? Wowza. Say no more.
This dude has also mixed up two patterns, by including another design in his suspenders. Don't be scared to go outside your box a little and see what you can create. The devil is in the details. You can either bring an outfit to life with accent pieces, or completely kill it.
Avoid the later.
3. Business Meets Pleasure
This is the man that women want to be approached by at the bar. He looks like he just got off of work and could possibly fulfill those 50 Shade of Grey fantasies that she'll never admit she has.
He's sharp, crisp, and a little bit scruffy. Not clean cut enough to be a d-bag, but not homeless either.
Since gingham can be an overpowering pattern, it's best to neutralize it with plain colors. Here, he's just wearing a plain white collared shirt and a simple black tie. Avoid being too matchy-matchy by just wearing black pants, instead of going full-out ginghambread man.
4. Wedding Date Material
So, you've been asked to be someone's wedding date. What a joy. Ditch the piss poor attitude and see this as an opportunity to give your mom a picture of yourself that she'd actually be proud to display in the house.
Dressing up for these occasions is something required by law, because if you don't, I can guarantee that you will look like an idiot standing beside everyone who is using this as an opportunity to Instagram the night away.
Dust off your old sports coat and pair it with a form-fitting gingham shirt. Doesn't matter if you choose a navy or black pattern, you're going to be looking like you actually have a sense of style, which will 9/10 surprise your date.
Make sure you head to your tailor to get everything fitted, before showing up like a potato sack, too. Seeing men in ill-fitting suits has got to be one of women's greatest turn offs.
5. Beach Boy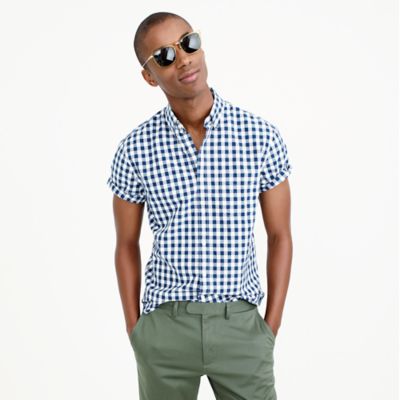 Meeting up with a new girl for the first time? I suggest going on a no pressure date to the beach. If you want to dress up like you have at least an ounce of style, while trying to not burst a blood vessel trying too hard, a gingham shirt is a perfect fit.
You'll look sophisticated and refined, while still completely casual. She'll be impressed that you wore something beyond a dumpy old t-shirt.
Pair this with some nice jeans or slacks, throw on your Wayfarers, and you're good to go. This is so easy to put together, why would you not do it?
Wearing gingham is something you may have strayed away from in the past, but it's time to get over your irrational fears. A lot of men hate going outside of their fashion comfort zone, but I'm telling you, looking good and trying new things is important in life.